Pay It Forward: Students Learn Invaluable Lessons during the Citi-HKCSS Community Internship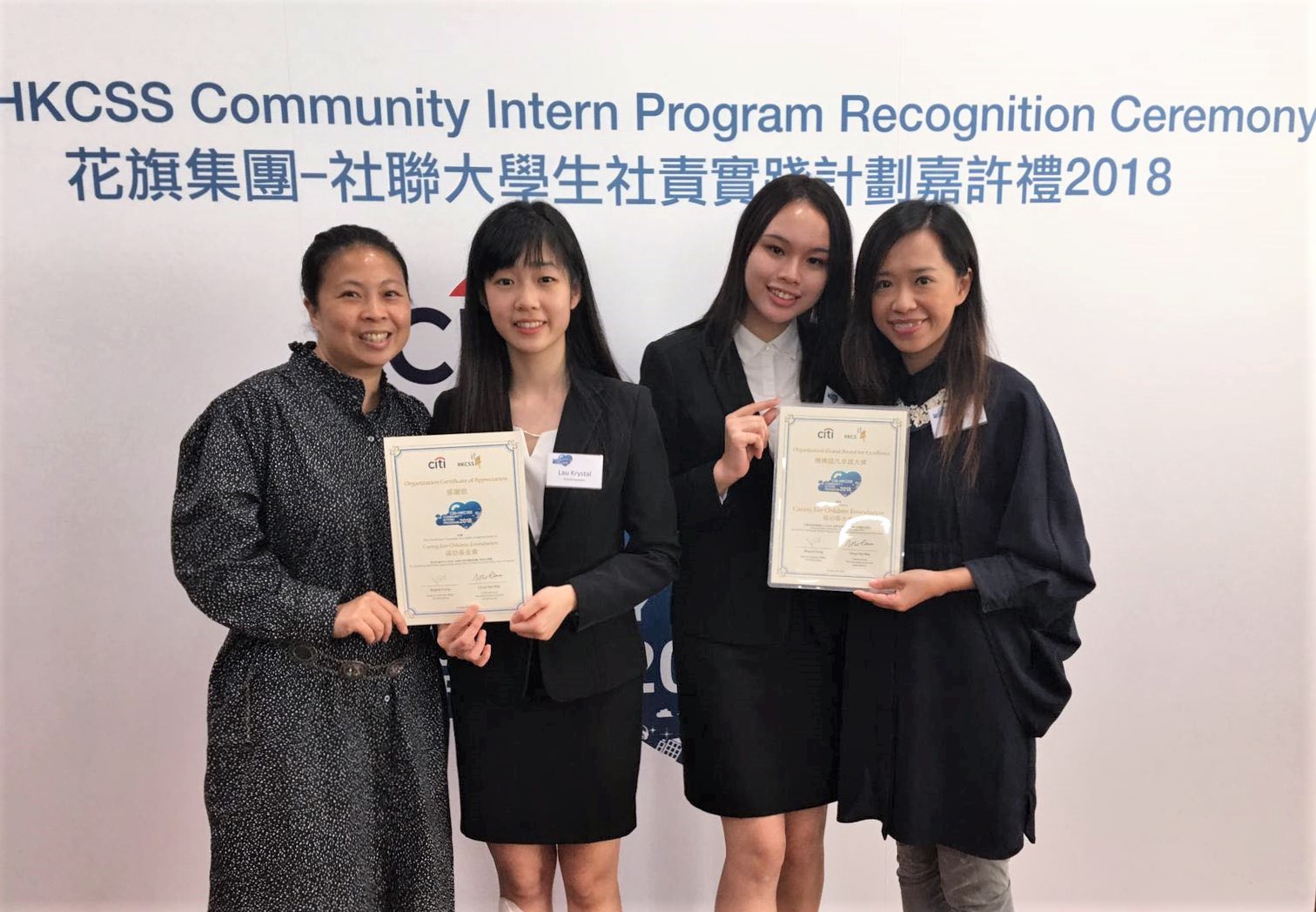 The Citi-HKCSS Community Intern Program (CIP) Recognition Ceremony was held on October 29, 2018 to recognize contribution of participating students to local non-governmental organizations (NGOs). At the ceremony, Krystal Lau (Global Economic and Finance, Year 2), was presented the Grand Award for Excellence for her outstanding service and contribution during her internship at Caring for Children Foundation (CFCF).
During the 20-day internship, Krystal and her internship partner conducted several major tasks, including drafting two proposals for the collaboration of CFCF with Bape and OpenRice, managing data in the CRM system, revamping the organization's website and promoting charity sales. Ms. Lok Chan, General Manager of CFCF, appreciates Krystal's effort, "We are so impressed with her passion. I believe the summer internship is an inspiring experience for Krystal."
Krystal stressed the importance to be creative and strive for a win-win situation when writing a fundraising proposal, "We need to be very thoughtful (and detail-oriented) in drafting the proposal… (and) consider different elements, such as the time required, monetary cost, target fundraising amount, availability of human resources, and the impacts of the campaign on society, to ensure the benefits can offset any drawbacks."
Krystal also shared how the experience helped her discover her strength, and enhanced her ability in teamwork. "I found myself good at brainstorming and expressing ideas, and I perform better when writing and presenting proposals. To increase our productivity, I also learned to observe people's character so that I could allocate different parts of a task according to one's strengths and weaknesses."
The CIP is organized by Citi and co-organized by the Hong Kong Council of Social Service (HKCSS). This year, nine students from the CUHK Business School participated in the CIP. In teams of two, students were given the opportunity to utilize their ability in problem-solving, and apply their business knowledge to contribute to the development of NGOs in various projects such as brand building, community activities, implementation of environmental protection measures, and Social Enterprise business, in their fruitful two-month internships.