Graduate Study Trip to Cambodia Draws Prefect Conclusion for IBCE Students
Contributed by Crystal Tsang, International Business and Chinese Enterprise (IBCE), Year 4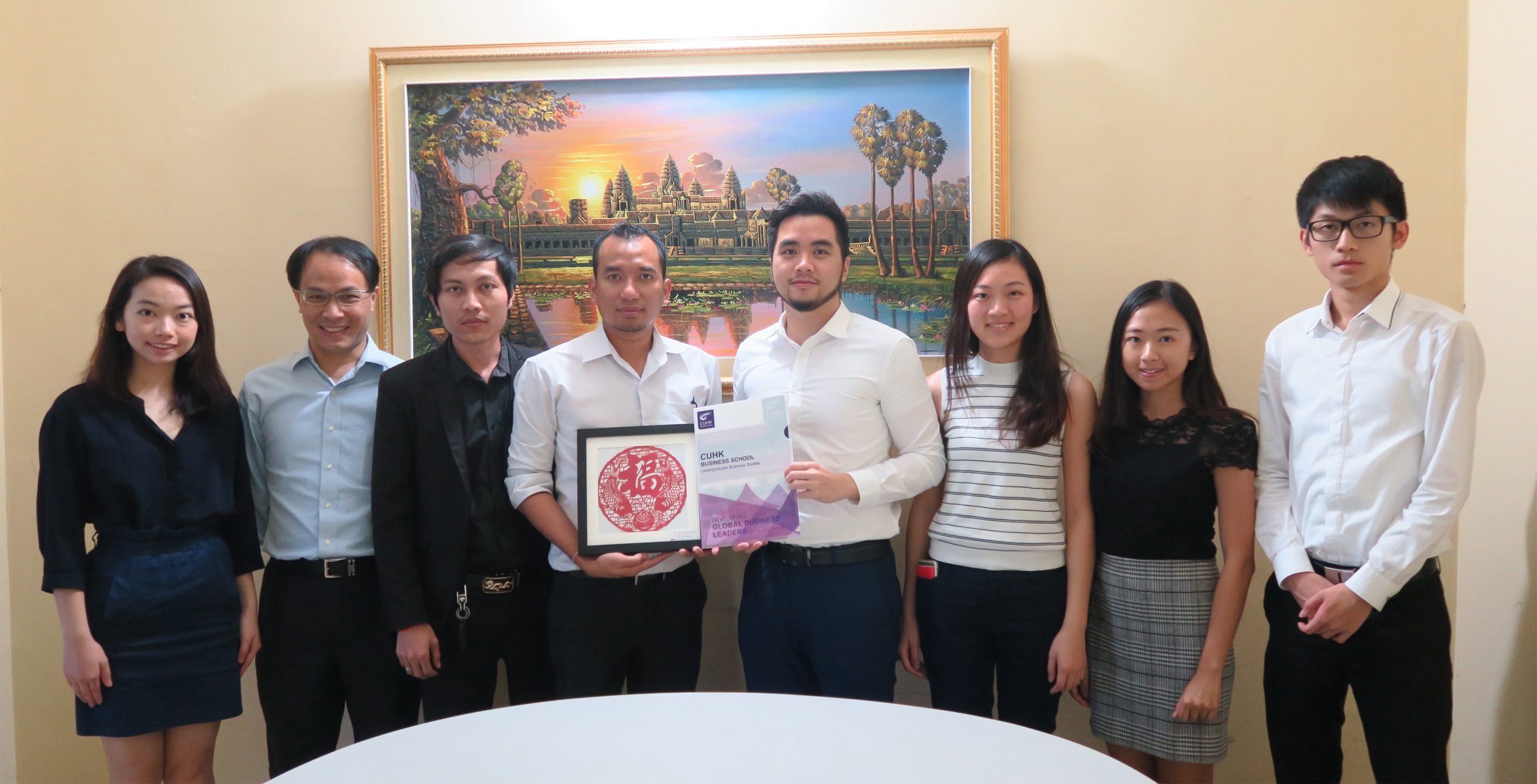 Reaching the final stage of our IBCE journey, we came together once again to explore Cambodia. After a 2-hour flight on a lovely morning, we kicked off our 6-day (Oct 25-30) graduation study trip in the capital city, Phnom Penh. The co-existence of the dusty busy streets and new buildings as well as the hospitality of our tour guide, Sarik, formed our first impression of the city: vivid but rough-edged.
On the first day of the trip, we toured around the luxurious Royal Palace and visited the Tony Fernandes School of Business, The University of Cambodia. Then, we met with Mr Braise Kilian, the executive director of European Chamber of Commerce in Cambodia, who is an expert on Cambodia's unique economic environment and business opportunities which attract foreign investment. We also visited Uberis, a venture catalyst firm, where Mr Sov Leang, the managing partner, discussed with us the company's success and challenges in investing and assisting local social entrepreneurs.
It was an intriguing experience at Cambrew, a local brewery group that owns multiple brewery brands such as Carlsberg. We were treated to a guided tour of the Gallery and a beer tasting session, while the company's representatives explained to us the uncompromising qualities of their beer products despite past triumphs and fierce competitions in the industry.
We were also granted the precious opportunities to meet the business leaders from several local enterprises. I was particularly taken by the local company, Lyly Food, which integrated corporate social responsibility in its operations, and dedicated its effort to improving the livelihood of smallholders and created jobs for the disabled, the illiterate, and the poor.
 The hectic schedule was concluded with an excursion to Udong, a quiet town with beautiful natural scenery, where we learnt how the Cambodians value their religion and long for peace. Our last stop of the study trip took us to Tuol Sleng Genocide Museum. It was thought-provoking to learn about the brutal history of Khmer Rouge, reminding us to show compassion and support to the less fortunate.
Lastly, we would like to express our sincere gratitude to Mr Simon Lee, our program director, for leading and arranging such a smooth and fruitful trip as the perfect end of our IBCE study.