CUHK Business Student Team Shines in Resilient HK Challenge
In response to the COVID-19 pandemic, the competition has switched its style to an online format this year. The team faced fierce competitions from other universities and was selected as one of the top ten finalist teams to enter the Mentoring Phase and Grand Finale. With the mentors' advice, they then further enhanced their proposals and presented their innovative ideas to the judges through a web conferencing platform in the final round.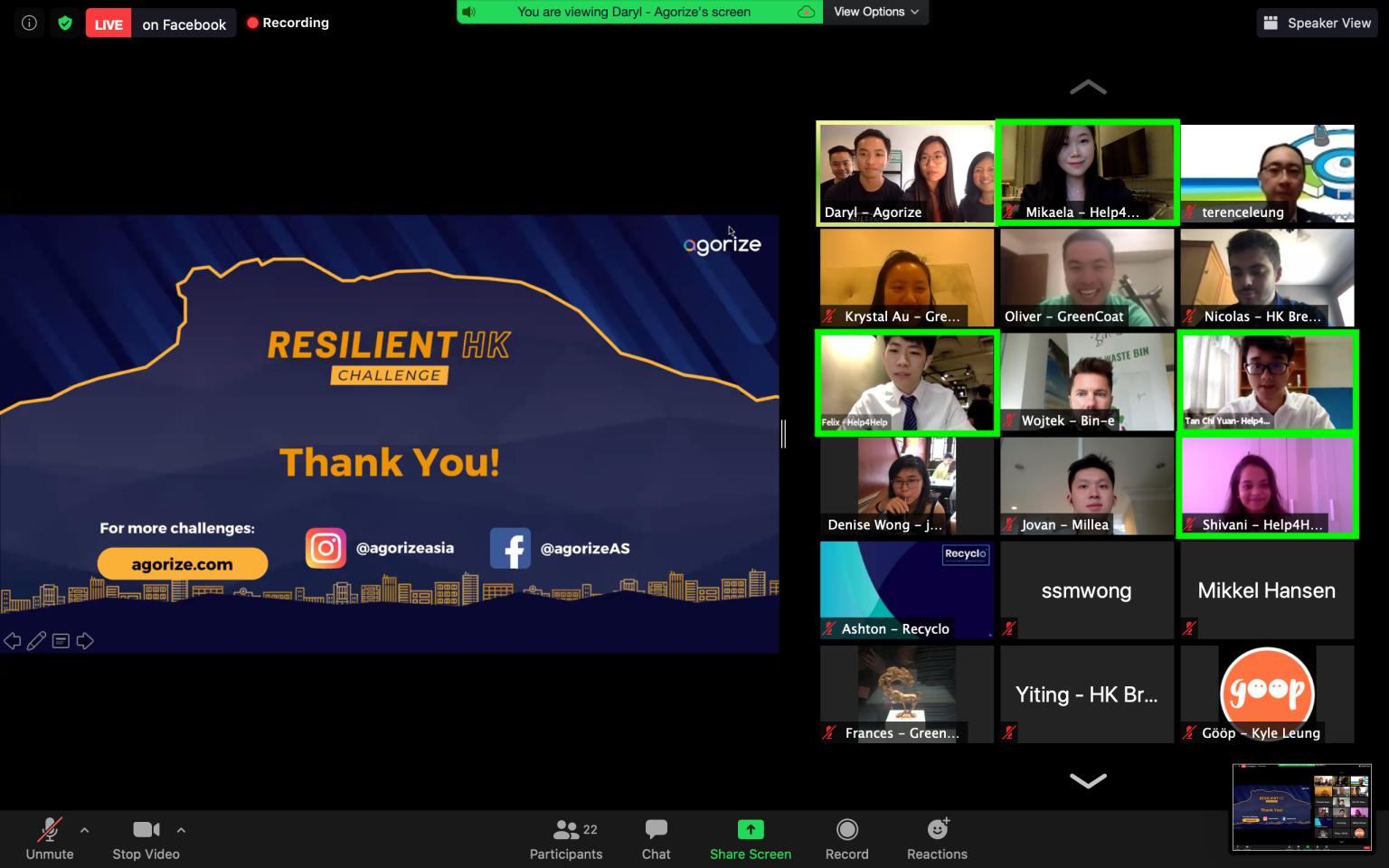 The team presented their ideas online to the panel of judges in the Grand Finale in Resilient HK Challenge. Mikaela Sun (top row, middle), Felix Lam (third row, left), Matthew Tan (third row, right), and Shivani Singh (fourth row, right) formed the winning team.

The competition challenged teams to think outside the box and come up with a feasible solution that would make Hong Kong stay strong as a resilient city in times of crisis and emergency. The CUHK team's proposed solution "HELP4HELP", was a mobile application that provides support for foreign domestic helpers in Hong Kong. The proposed solution was judged based on its relevancy to the Hong Kong society, and the potential impact it will create based on the three critical pillars of a resilient city (including health & wellbeing, infrastructure & environment, and economy & society).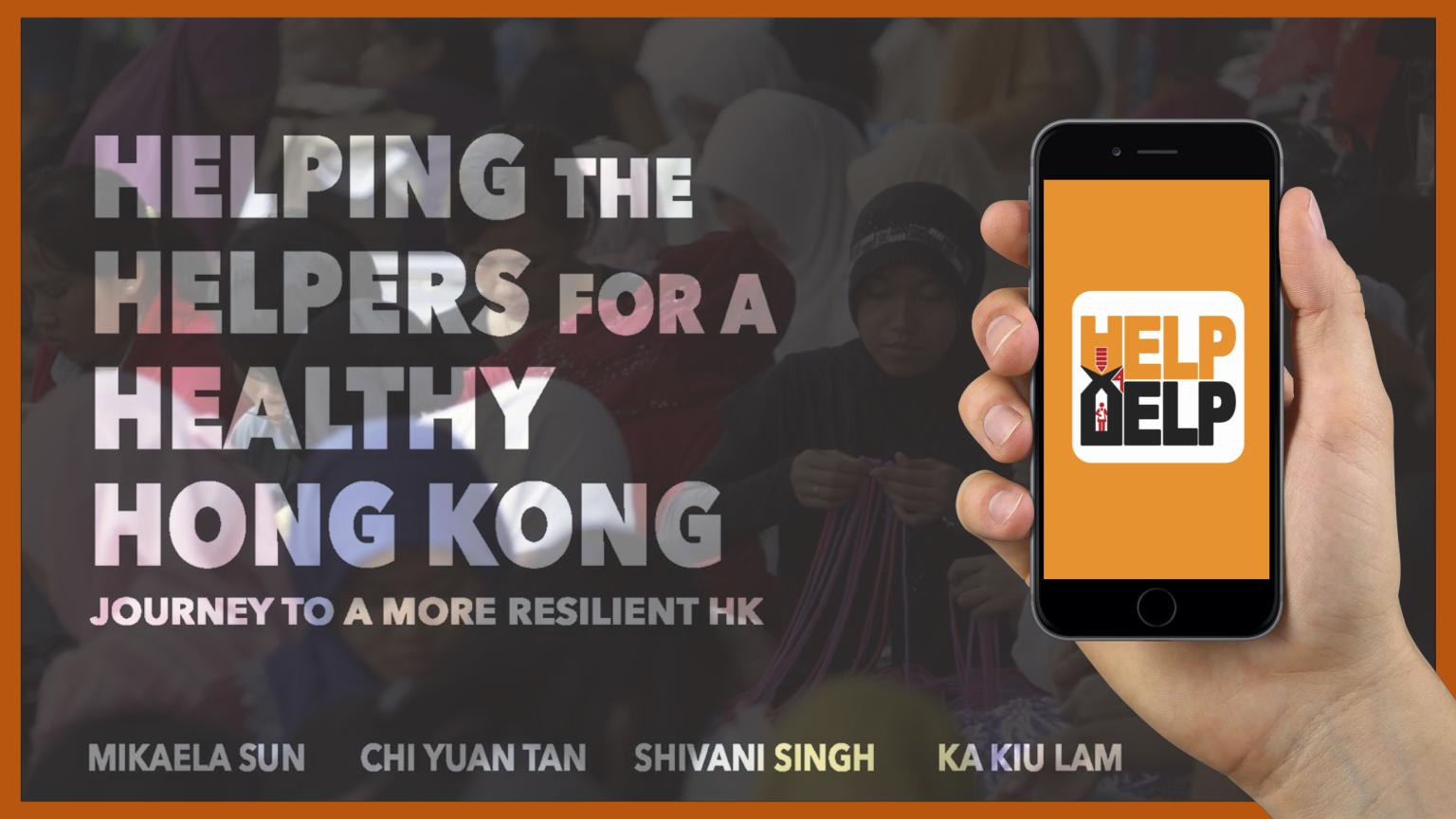 The winning team has a strong start with their mobile app solution "Help4Help" during the Grand Finale round.
Organised by Agorize Asia Limited, Resilient HK Challenge is an initiative that brings together a coalition of innovators and corporates working together to help Hong Kong adapt, overcome, and grow beyond its challenges as a resilient city.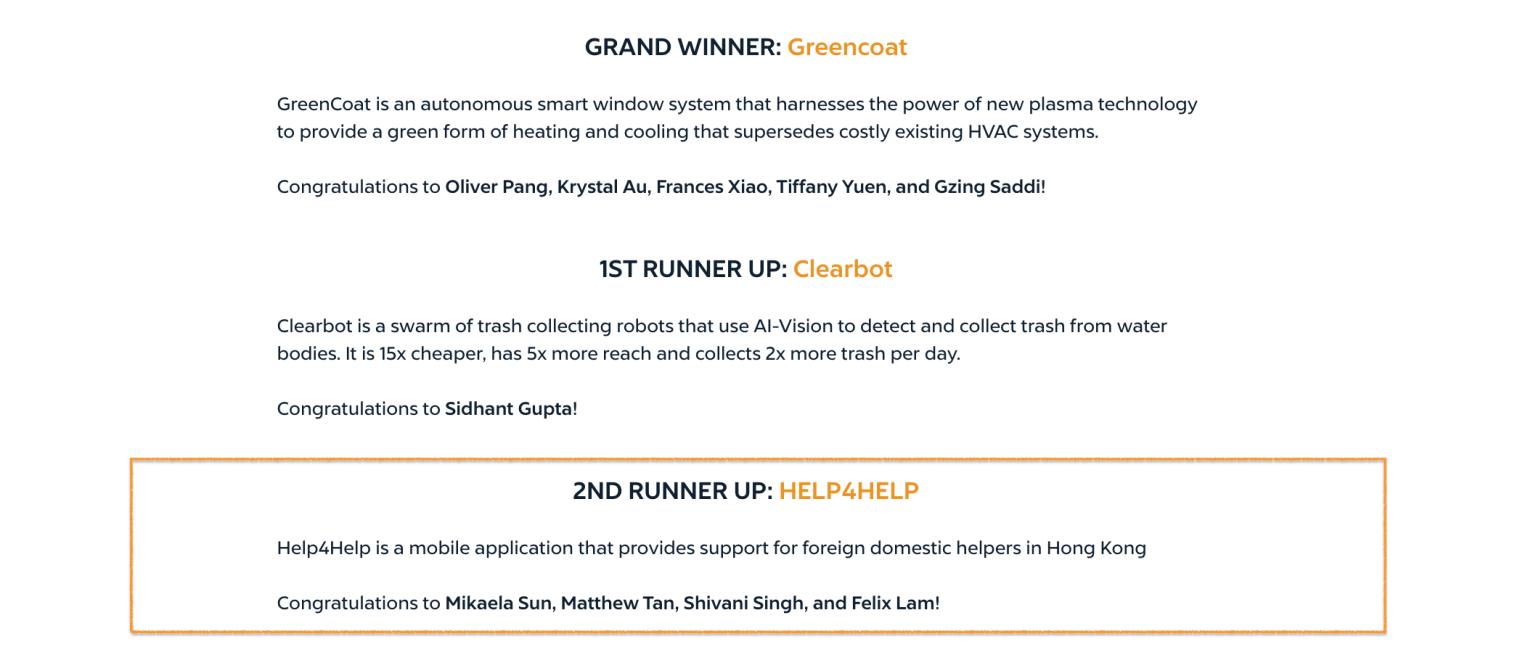 Resilient HK Challenge winners' announcement: the CUHK team competed against nine other finalist teams, and emerged as winners in the second-runner up position.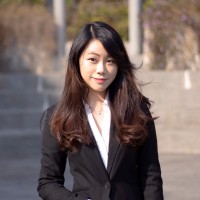 "Competing against many talented teams composed of startups and students from all over the world, I admit I didn't have high expectations of making it into finals, let alone achieve the 2nd Runner-Up award. It still feels very surreal, and I am incredibly blessed to have been able to take part in Agorize's ResilientHK Challenge with the fantastic team members Shivani, Matthew, Mikaela and Felix.
Our team proposed to create a mobile platform, called Help4Help, that provides financial, legal, and job-matching support for foreign domestic workers in Hong Kong. A special thanks to our mentor Gary Fung for helping us fine-tune our idea!
This challenge has not only inspired me through the ideas pitched by the finalists but has also motivated me to keep on innovating for the future. Seeing both students and startups sharing the same floor at the event indeed affirmed the idea that there's no age limit to one's creativity.
Thanks again to Billie, Aurelie, and the entire Agorize team for planning such a memorable event!"
Mikaela Sun (Integrated BBA, Year 3)