PACC Students Took Home Top Prizes with Exceptional Performance in Two Case Competitions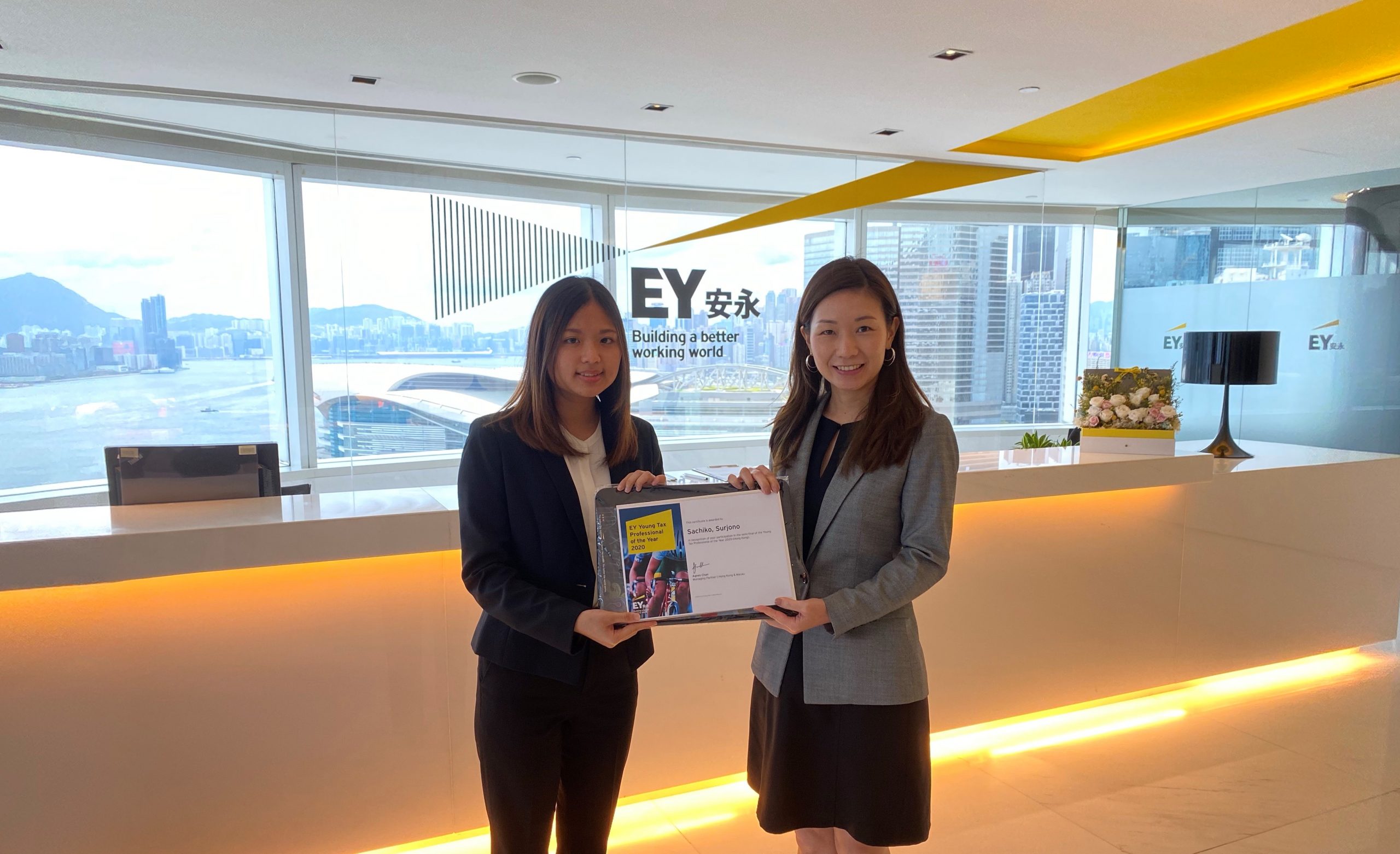 Sachiko Surjono (Professional Accountancy, Global Accounting Stream, year 3) (left) celebrating her success with EY's Tax Partner, Ms. Ada Ma (right), as Champion of EY Young Tax Professional of the Year 2020 (Hong Kong).
In June 2020, Professional Accountancy (PACC) students took home top prizes in EY Young Tax Professional of the Year 2020 (Hong Kong), and PricewaterhouseCoopers (PwC)'s Career Plus Challenge.
EY Young Tax Professional of the Year 2020 (Hong Kong)
Sachiko Surjono (PACC, Global Accounting (GA) Stream, year 3) was crowned champion of the EY Young Tax Professional of the Year 2020 (Hong Kong). Two other PACC students, Tong Ka Man and Wong Oi Ying (both year 3), also performed outstandingly and were amongst the eight finalists in the competition. As the champion, Sachiko will represent Hong Kong at the national competition held in the second half of 2020.

"The competition was both challenging and demanding which highlighted tax issues relating to e-commerce from both Hong Kong and international tax perspectives," Sachiko commented. "The competition allowed me to have a glimpse into what a career in tax entails, which goes beyond just crunching numbers and filing tax returns. Instead, it is a complex issue that requires a knowledgeable mindset on changes in global trade, regulations and technology."
EY Young Tax Professional of the Year is an international competition designed to identify young talent with an interest in tax, and strengthen their professional skills to flourish their future careers. It provides a great platform for students to exchange ideas and build their professional network with people from a wide range of backgrounds and cultures. The competition aims to demonstrate how much the tax profession has changed today, and how businesses are managed under different cultures.
"I am proud of our students' strong analytical skills and the ability to apply them in a complex and ever-changing business environment. I look forward to Sachiko making another breakthrough in the national competition later this year." Dr. Edmund Wong, Director of the PACC Programme commented.
Each year, outstanding students from the PACC Global Accounting Stream are encouraged to take part in various competitions to further develop their global mindset as well as enhance their understanding of international accounting practices and issues.
PwC's Career Plus Challenge
A team of PACC students brought home the 1st runner-up of PwC's Career Plus Challenge in Hong Kong. The winning team members consist of four year 3 PACC students, Sachiko Surjono, Patrick So, Renee Ko (all GA stream), and Sammi Leung.
Patrick So, sharing his thoughts of the competition, "The Career Plus Challenge is a demanding yet interesting case competition. As 'being innovative' is the key judging criterion of the competition, we have to thoroughly understand the current job market and figure out strategies that have never been implemented."
The competition centred on the theme "Ideal Employer" which challenged students to unleash their creativity as representatives of GEN Z, to envision an ideal working environment. The competition featured star coaches from PwC, mentoring the top 10 teams in the final round.
"While brainstorming new ideas, our team considered extensively on the feasibility, effectiveness as well as costs of our solutions. Overall, the case competition has been a great learning opportunity as we comprehend striking a balance between innovation and practicality, an important skill set in the modern business world." Patrick added.
"Creative thoughts form an important element in the contemporary business world. Such significance is amplified in the fight against COVID-19." Mr. Eric Leung, Associate Director of the PACC Programme shared, "I am delighted to see that our students, as future accountants, were able to identify problems in the workplace, apply their analytical skills and come up with innovative ideas to solve business issues. These are definitely the core competencies we would like to train our students through our curriculum."
Each year, the PACC programme organises overseas study trip and various non-classroom trainings for Global Accounting Stream students to boost their international exposure and practical knowledge through case analysis workshops and leadership training sessions, with scholarships provided.