Where Traditional Values Meet Modern Technology: Prague Study Tour Brought Inspirations to Students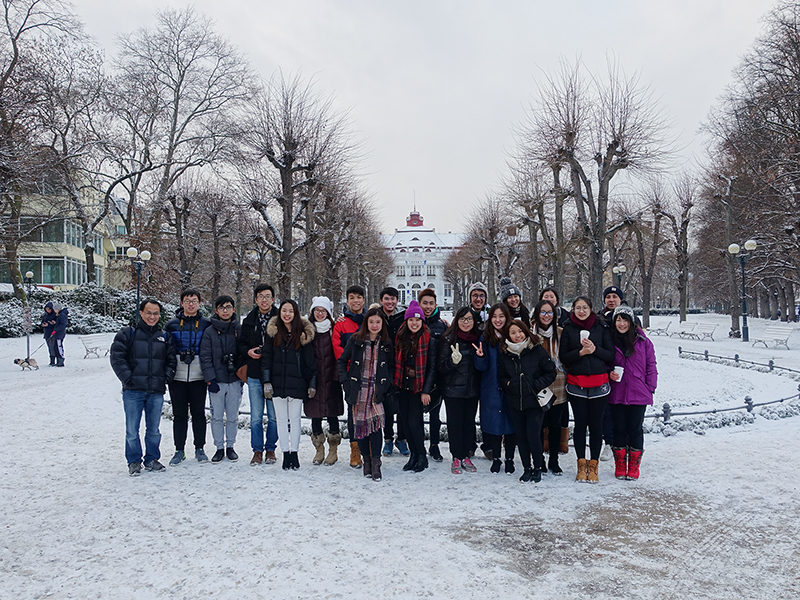 A group of 19 business students travelled to Prague on a seven-day study tour organized by the Undergraduate Office from January 2 to 8, 2017. The tour aims to let students learn about the impacts and opportunities brought by China's One-Belt-One-Road (OBOR) initiative in the European market, and to enrich students' knowledge towards the business environment in a global setting. This study tour is sponsored by the Committee on the Promotion of Civic Education, Home Affairs Bureau of the HKSAR Government.
Led by Mr. Simon Lee, Assistant Dean (Undergraduate Studies), the 19 students visited various companies which are famous for integrating innovation into the companies' business models, including Pilsner Urquell, Skoda Auto, and Avast Software.
At Pilsner Urquell, students first learned how the company pioneered in implementing ground-breaking technology to produce the world's golden beer, and how its branding strategy is based on its unique identity. Student then enjoyed a guided tour on the car production floor at Skoda Auto, and were introduced to the cutting-edge technologies in car designing and its solution in enhancing the company's production efficiency and reducing operation costs. Students also visited Avast Software, where they learned how the company define their network security products' positions in different consumer markets, and how creative thinking is encouraged amongst employees as part of the company's long-term strategy.
"It was an eye-opening experience when we visited the production plant of Škoda Auto. I was amazed when I was looking at hundreds of robotic arms 'working' systematically in manufacturing an automobile. With automation and digitalization taking a more prominent role in the modern era of engineering and automobile manufacturing industries, this has been a great learning experience to witness the operation and production processes up-close," shared by Harry Chan (Integrated BBA, Year 5).
The students also visited the University of Economic, where they attended a lecture to experience learning under a different culture and environment, and enjoyed networking with the local student representatives and faculty members.
Braving the freezing and icy weather in Prague, the students also participated in a number of cultural activities, such as visiting the Prague Castle, Kutna Hora, Old Town, and National Technical Museum, where they deepened their understanding of Czech Republic's history and development. The trip was an invaluable experience for the students, as they gained an insightful global perspective on the OBOR development, and learned to appreciate the cultural differences between the two countries.
"There is no better way to understand the deep implications that lie within the One-Belt-One-Road Initiative than fully immersing yourself in the people and the culture of Prague, and seeing the changes happening around you," said Elizabeth Chan (Global Business Studies, Year 1). "This visit has made me appreciate the way firms adapt and innovate as the world becomes flat, and how much we still have to learn to equip ourselves for the challenges ahead."