Inauguration For Undergraduates 2021 cum
Beta Gamma Sigma CUHK Chapter Honoree Induction
On 30 August 2021, over 750 newly admitted undergraduates of The Chinese University of Hong Kong (CUHK) Business School officially started a new chapter of life at the Inauguration Ceremony, with the presence of guest of honour Mr. Eddie Yue, Chief Executive of the Hong Kong Monetary Authority and CUHK BBA alumnus.
To commemorate the entry of the new cohort of CUHK Business School undergraduate students and celebrate the return of normal campus life in a fresh academic year, the Inauguration was held in Sir Run Run Shaw Hall, CUHK on 30 August 2021.
It was the Business School's first-ever Inauguration that was conducted in Sir Run Run Shaw Hall, the most significant landmark of CUHK. It was also unprecedented for the Business School to conduct the ceremony through hybrid means – a livestream of the ceremony was simultaneously available on YouTube for senior students and parents to participate in this memorable event.
During the ceremony, Beta Gamma Sigma CUHK Chapter Honoree Award 2021 was presented. This year, Mr. Eddie YUE (BBA 1986), Chief Executive of the Hong Kong Monetary Authority, was nominated to be the Beta Gamma Sigma CUHK Chapter Honoree. Prof. Lin ZHOU, Dean of CUHK Business School, presented the award to Mr. YUE. Apart from the two guests of honour, Dr. Fred KU, Associate Dean (Undergraduate Studies) and other faculty members of CUHK Business School attended the event to give Business School Badges to Programme Representatives. Each freshman who attended the ceremony was awarded the badge, which is a tangible symbol signifying responsibility, professionalism, and commitment.
The inauguration began with Dean ZHOU's motivational remarks. Dean ZHOU welcomed the CUHK Business School undergraduate class of 2021, and challenged them to stand firm and strong to face all the obstacles ahead. Prof. ZHOU also highlighted three key attributes that are essential in the university school life in his sharing. He pointed out the importance of agility, vigilance and resilience, and told students that these attributes "will aid your learning process, guide your self-betterment and eventually steer your nextplay upon graduation."
Being the 2021 Beta Gamma Sigma CUHK Chapter Honoree, Mr. YUE also took this precious opportunity to share his own experiences with the incoming students. Mr. YUE believed that life does not listen to plans or follow schedules but takes its own course, so he encouraged students to honour it, trust it, and live it. In his inspiring speech, he offered three takeaways to the students – to keep moving, to strive for excellence, and stay curious. He hoped students could nurture their aspiration and make the most of themselves.
Lastly, Dr. Fred KU encouraged freshmen to define their own success and not limit themselves by the stereotype. He was confident that students would find the coming four years in CUHK Business School a life-changing experience.  
As the new academic years begins, CUHK Business School is more than excited to welcome all the new and current students to be in the campus again. Uncertainties and obstacles would continue to exist under the pandemic, yet the school is ready to embrace all the challenges with its members.
Watch the Teaser for of the precious moments of Inauguration: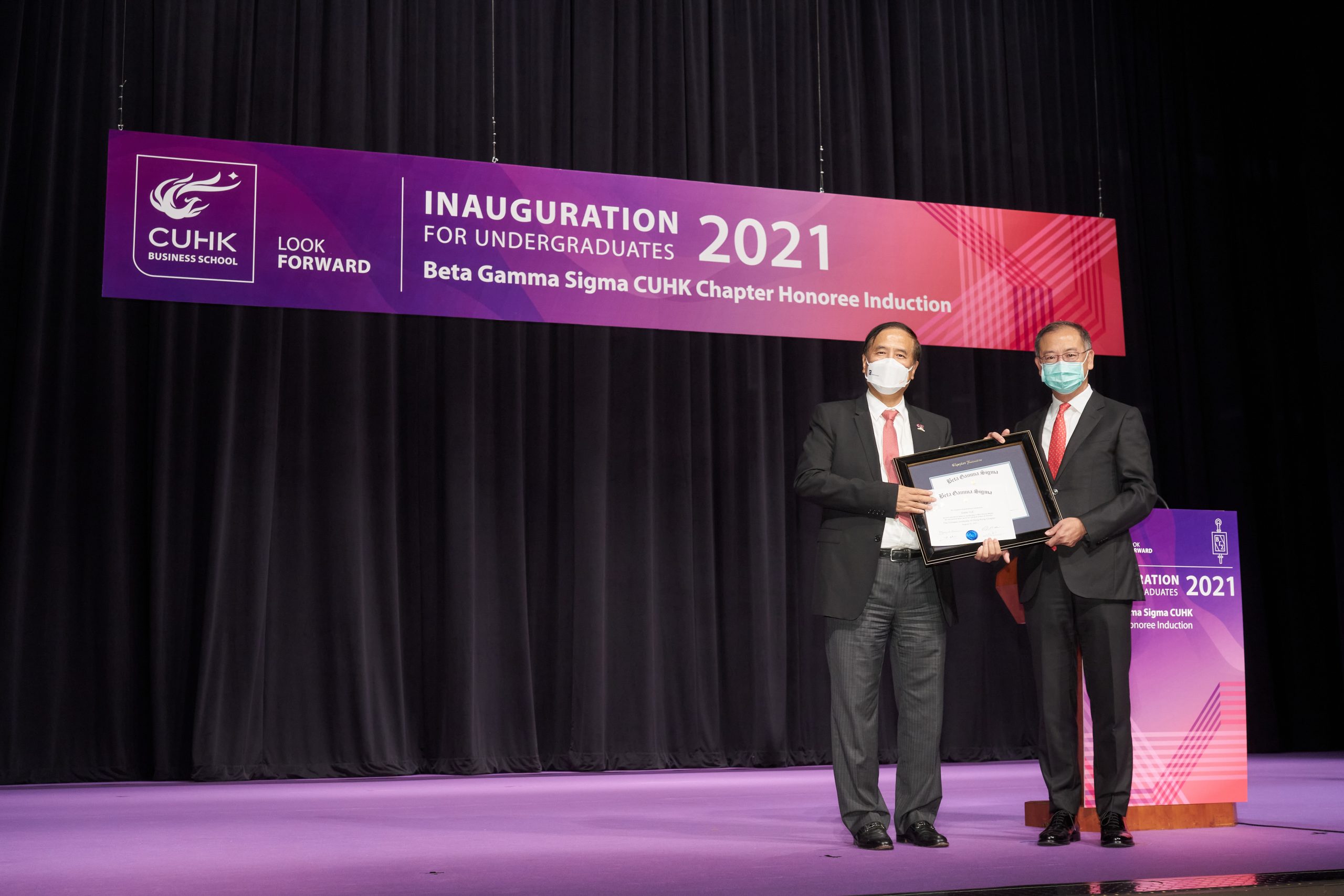 Mr. Eddie Yue (BBA 1986), Chief Executive of the Hong Kong Monetary Authority, was nominated as this year's Beta Gamma Sigma CUHK Chapter Honoree.