CUHK Business School Undergraduates Awarded
Vice-Chancellor's Scholarships for Excellence 2021/22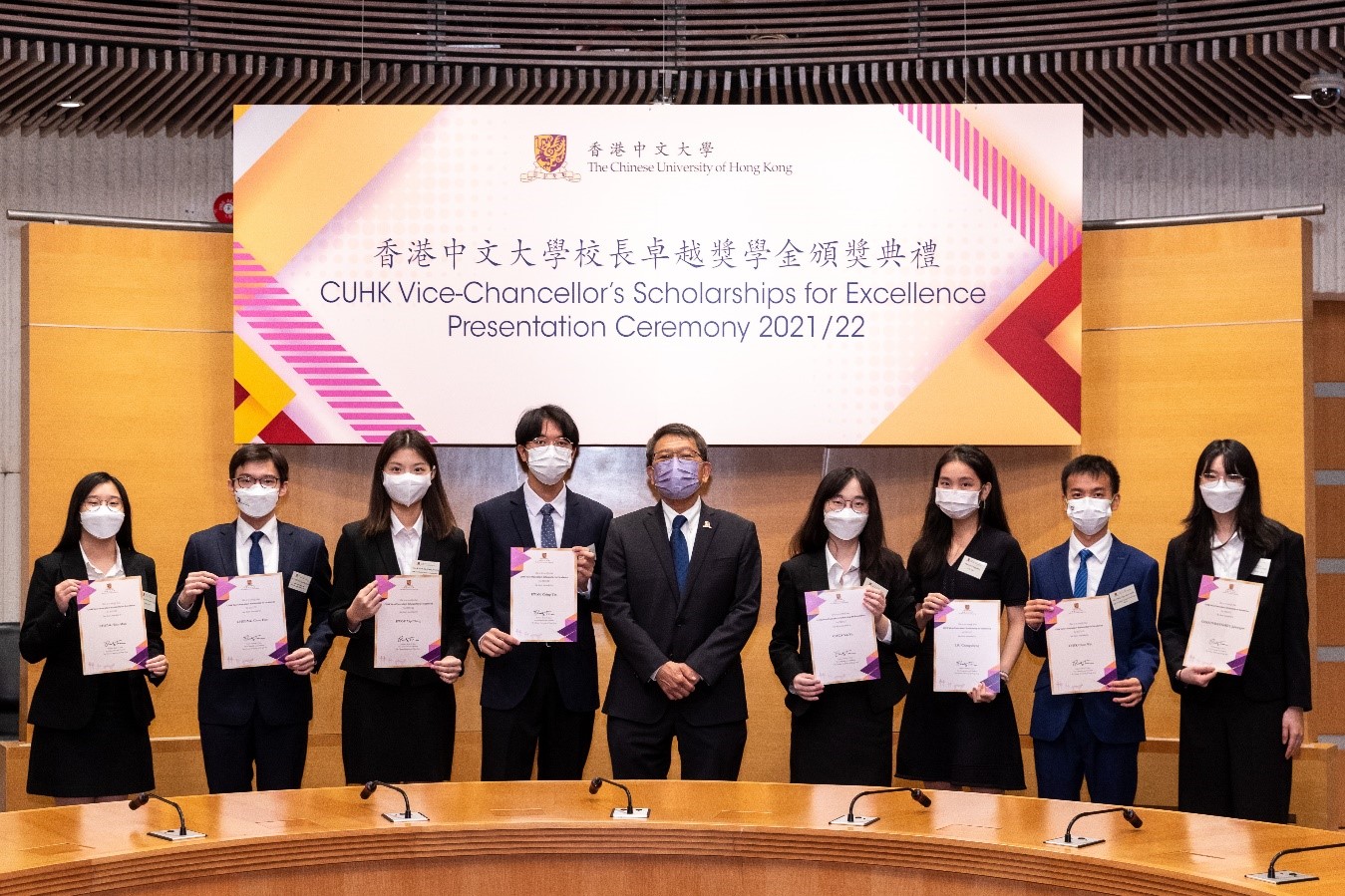 Group photo of Professor Rocky S. Tuan (fifth from left), CUHK Vice-Chancellor and President, and the awardees at the scholarship presentation ceremony.
Vice-Chancellor's Scholarships for Excellence 2021/22
Established since the academic year 2021/22, the Scholarship aims to not only encourage excellent academic achievements at entrance and CUHK, but also non-academic performance such as communications skills, track record of distinguished leadership, commitment to service and awards attained. Only 8 undergraduates from all faculties of the University are chosen for this award.
Two of our undergraduate students of The Chinese University of Hong Kong (CUHK) Business School have received recognition by the University for their distinction in academics and extra-curricular accomplishments.
Stella Chen (GBS Year 2) and Angus Cheung (QFRM Year 2) were both awarded non-renewable awards of HK$50,000 by Vice-Chancellor Professor Rocky S. Tuan.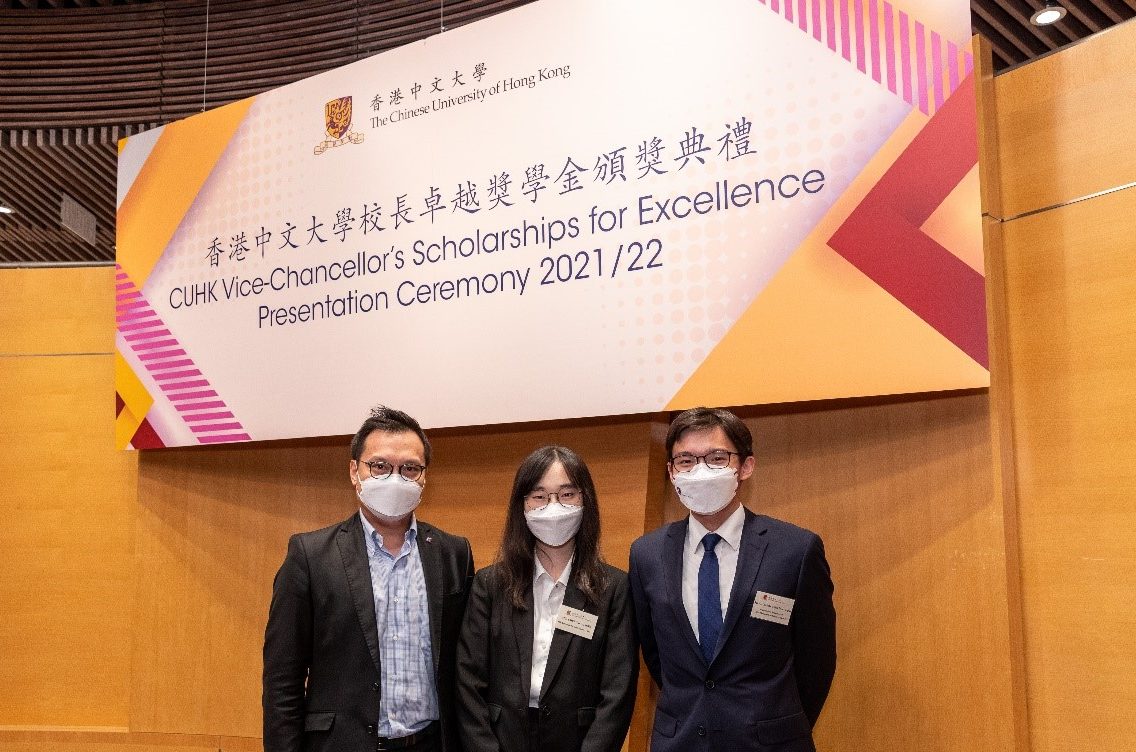 Dr. Fred Ku, Associate Dean (Undergraduate Studies) (left) congratulated Stella Chen (GBS Year 2) (middle) and Angus Cheung (QFRM Year 2) (right) for their splendid performance.
We asked the awardees about their splendid achievements:
Question: What makes you stand out from the candidates?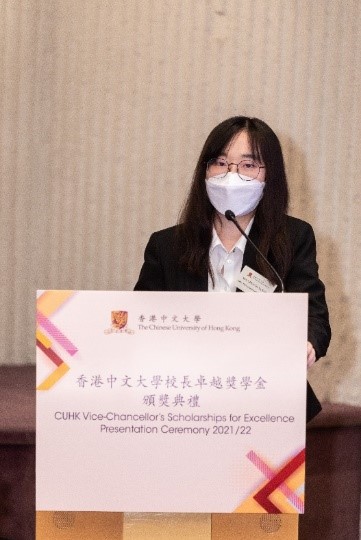 Stella Chen (GBS Year 2) shared her intriguing school life at CUHK Business School.
Stella Chen:
"I believe all the candidates for this scholarship are very competent. Why I received this scholarship perhaps because I presented my thoughts about global business trends well in the interview."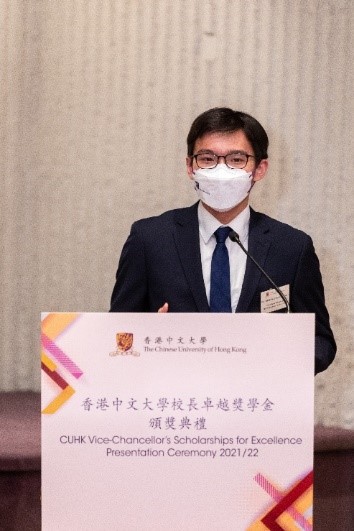 Angus Cheung (QFRM Year 2) shared his fascinating journey joining various case competitions.
Angus Cheung:
"An all-rounded personal development is my key to standing out. Apart from having decent academic achievements, I also paid effort in arts. Since young, I have been exploring various visual arts mediums and settled with oil painting, winning multiple awards in national contests. I have also been playing the electric guitar for over 10 years. I compose music for my band which trains my creativity."
Question: What extra-curricular activities did you join?
Stella Chen:
"I was one of the organisers of the CUHK Model United Nations Conference 2022, where we invited secondary school students to talk about global issues. I am also a member of the Chung Chi Orchestra and the violist of the Verismo Quartet. Apart from those, I received several awards from business case competitions I joined before."
Angus Cheung:
"Upon entering CUHK, I joined the CUHK Case Competition Team. As a member of the team, I received training sessions and competition simulations on solving business cases. I also represented the CUHK Business School in 5 case competitions. The most recent one was the UTSGCC in September, in which I flew to Sydney with my teammates to participate."
Question: Why did you choose to study in CUHK Business School?
Stella Chen:
"I like the freedom offered by the Business School where you get to explore different opportunities. I am also attracted by the friendly atmosphere of CUHK."
Angus Cheung:
"CUHK's campus environment is undeniably the most beautiful and calming in Hong Kong. In addition, the people here are all very supportive and friendly from what I had known when I was applying for the school."
Question: How does the CUHK Business School help you?
Stella Chen:
"The case training I received enhanced my problem-solving skills and allowed me to remain calm amid challenges. The network at CUHK Business School also exposed me to diverse opportunities."
Angus Cheung:
"The CUHK Business School has a great alumni network for me to leverage during my career planning. In addition, the finance trading laboratory gives me access to Bloomberg, in which I can obtain the most updated research reports, data, and news for analysis."
Question: Who would you like to thank for obtaining this scholarship?
Stella Chen:
"I would like to thank my family and friends for supporting me through my participation in extracurricular activities. There were times when I doubted I should be doing those, but their company kept me going."
Angus Cheung:
"I would like to thank Prof. Tuan and the Business School for providing this scholarship. I am glad to know that the school pays its utmost effort to encourage students to strive for excellence. I would also like to thank my parents for providing opportunities for me to develop in various fields and not only limited to academics."
Question: Any words of encouragement for students who are interested in studying business?
Stella Chen:
"If you worry that you are not a "business-minded" student, just know that every activity you do that you think is unrelated, actually has its own element of business! Confidence helps you go a long way."
Angus Cheung:
"Business is an area which requires technical skills, people skills, and luck. As the name of the scholarship suggests, striving for excellence paves the path to success in this area of study. Make every endeavour to develop both your knowledge and personality to the best, and luck will come to you."