Global Business Studies Student Team Celebrates as Champions of Hong Kong General Chamber of Commerce Business Case Competition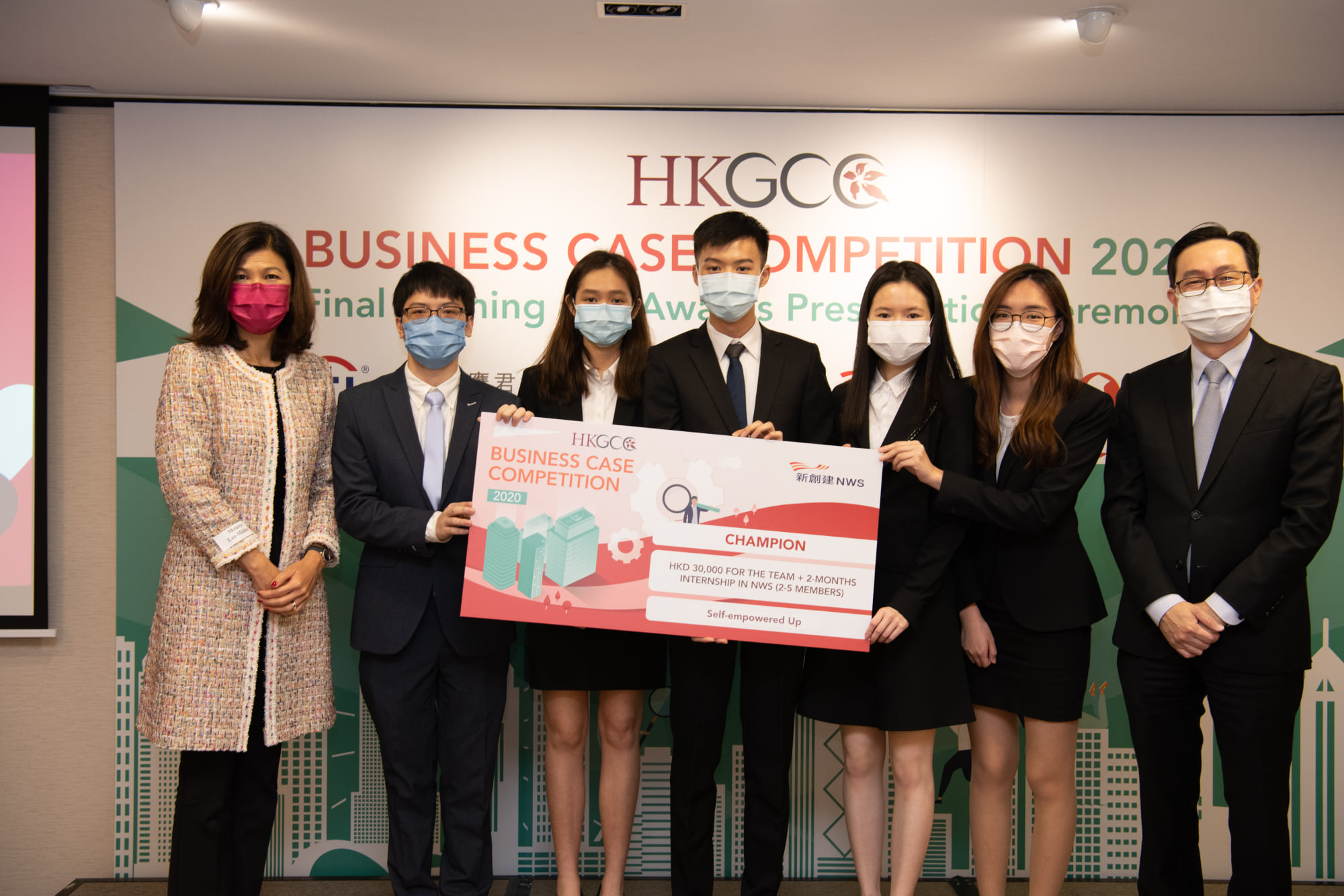 The HKGCC Business Case Competition Champions: Lee Ching Hei, Hayden (second from left), Fung Ching Man, Jessica (third from left), Cheung Hoi Chun, Matthew (middle), Tse Tsz Ching, Hilary (third from right), Lee Hoi Ning, Hebe (second from right). 
A team of five Global Business Studies students brought home the championship from Hong Kong General Chamber of Commerce (HKGCC) Business Case Competition 2020 on 22 January 2021.
Under five different business case divisions, the CUHK team worked on the NWS Holdings Limited case that seeks to envisage enhancements and future growth opportunities for the Hong Kong Convention Exhibition Centre (HKCEC), which is facing increased competition from emerging virtual exhibition models due to the arising public health issues that have severely affected the MICE industry.
Teams were tasked to composite a solution that leverages technological advancements available in the market to maintain the company's regional competitive advantage, and utilities the physical venue's events management expertise to remain relevant in the future.
After three preliminary rounds, the CUHK team came top three in their division to enter the final round, where they deliver their proposal to a panel of expert judges in a live presentation and defence. The team impressed the judges with their acute business sense, comprehensive analysis well-coordinated presentation, and was crowned the NWS case champions in the competition. In addition to the winning title, the team also received a cash prize of HKD 30,000 and a 2-month internship in NWS.
The HKGCC Business Case Competition is an annual event organised by the Hong Kong General Chamber of Commerce, aiming to promote the exchange of ideas between university students and businesses as well as encourage students to develop innovative and creative solutions for real-life business cases. Over 960 students from universities, and community colleges have participated in the competition this year.
NWS Business Case Champions:
Lee Ching Hei, Hayden (Global Business Studies, Year 2)
Fung Ching Man, Jessica (Global Business Studies, Year 2)
Cheung Hoi Chun, Matthew (Global Business Studies, Year 2)
Tse Tsz Ching, Hilary (Global Business Studies, Year 2)
Lee Hoi Ning, Hebe (Global Business Studies, Year 2)